In the fast-paced world of business, staying organised and efficient is essential for success. Just as decluttering your living space can lead to a clearer mind, decluttering your business can result in improved productivity and growth. In this article, we'll explore five effective decluttering strategies to help you streamline your business operations, boost productivity, and achieve your goals.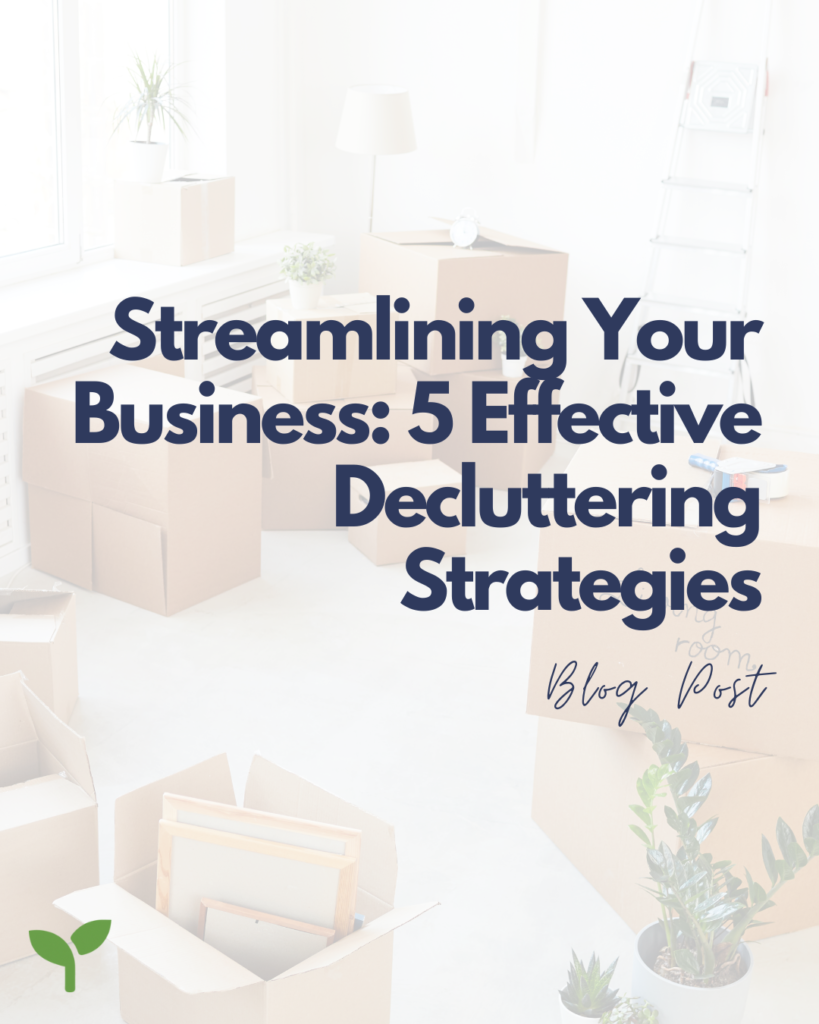 Streamlined Processes for Enhanced Efficiency
Complex and convoluted processes can slow down your business operations and frustrate your team. Start by mapping out your existing processes and identifying bottlenecks or unnecessary steps. Streamline workflows by removing redundant tasks and optimising the sequence of actions. This can lead to smoother operations, faster task completion, and a more motivated workforce.
Digital Documentation and Cloud Storage
Physical clutter isn't the only type that can hinder your business. Piles of paperwork and disorganised digital files can also impede efficiency. Embrace digital documentation and cloud storage solutions to reduce clutter and make information easily accessible. Cloud storage not only saves physical space but also allows your team to collaborate seamlessly, regardless of their location.
Inventory Management and Lean Principles
For businesses that deal with physical products, effective inventory management is crucial. Implement lean principles by keeping only the necessary inventory levels to meet demand. This reduces storage costs, minimises waste, and helps you respond quickly to market changes. Regularly review your inventory processes to ensure they remain efficient and aligned with your business goals.
Clear Communication Channels
Miscommunication and information overload can lead to confusion and inefficiency. Simplify your communication channels by using the right tools for specific purposes. Invest in project management software, instant messaging platforms, and collaboration tools to ensure that communication is focused, relevant, and transparent. Clear communication enhances teamwork and reduces the clutter of unnecessary emails and messages.
Outsourcing Non-Core Activities
Attempting to handle every aspect of your business in-house can lead to cluttered workflows and stretched resources. Consider outsourcing non-core activities such as payroll processing, IT maintenance, and customer support. This allows your team to focus on tasks that directly contribute to your business's growth and success. Outsourcing can also provide specialised expertise, leading to improved overall efficiency.
Decluttering your business goes beyond tidying up physical spaces – it's about optimising processes, enhancing communication, and making room for growth. By implementing these five strategies, you can create a leaner, more efficient business that is poised for success in today's competitive landscape. Streamlined processes, organized documentation, efficient inventory management, clear communication, and smart outsourcing will not only declutter your business but also position it for sustained growth and innovation.
Most people think of accountants as number-crunching men in suits. A lot of people come to us looking for someone to help do their accounts and tax returns at the end of the year. But did you know that at Seed Accounting Solutions, we do so much more?
Read more in our blog on what accountants can do for you.