Credit Management Guide
22nd November 2022

Vision, Purpose and Values
24th January 2023
The productivity pyramid is a great mindset for all small and micro business owners. It encourages better leverage in our business and enables us to work smarter not harder.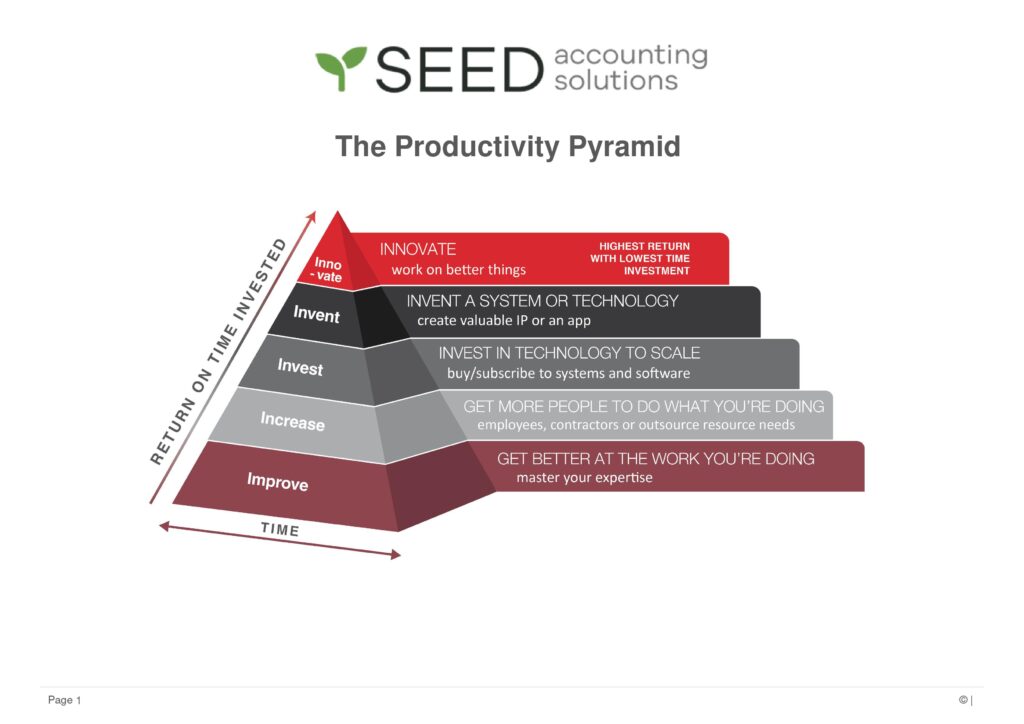 If we start by looking at the bottom of the pyramid – this is often where you start off in your business. Along the bottom of the diagram, you can see that the time investment is much higher than at the tip, but that as you move up the pyramid, the return on investment also increases. Let's look at each level of this pyramid.
Improve: achieving a degree of mastery – courses, CPD etc. This is usually when you first set up your business and are still learning on the job. You will be spending a lot of time figuring out how to do what you want to do, and this obviously isn't a direct revenue-generating tool. You will however learn enough to start your business journey, grow the business, and move to the next step.
Increase: delegate work – either employees, freelancers, subcontracted work. As your business grows, you'll need to outsource and delegate some of your workload. This will take different forms depending on the size of the business, the type of business, and cashflow. This will, whilst taking up some time, free up some of your time to focus on the next step.
Invest: Now that you're not focusing full time on the operations of the business, you'll have availability to look at softwares and systems to improve efficiencies. These will be investments in both time and money, but will reap the rewards to help you move up the pyramid.
Invent: due to the improved efficiencies, time to spend on developing your own IP. This could be creating courses or programmes to enable others in your industry to replicate what you've done, or learn from you. You may also consider setting up courses or learning systems for clients to access your service at a lower price point, but with less time investment from you.
Innovate: because of the new systems and technologies, time can be spent on better things due to being freed up. This could be speaking at events and sharing your business journey, or doing whatever 'better things' you determine necessary.
If you'd like to look at some of other our mindsets that we believe are beneficial to small business owners, why not check out some of our previous blogs here.