This business concept helps understand the difference between profit and cash, and how a return on investment is obtained.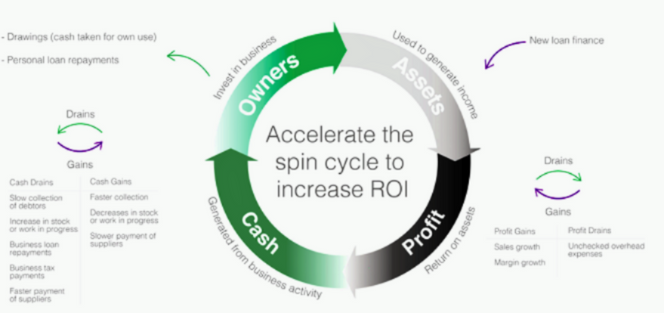 First off, business owners usually set up a business and invest in it.
With that income, assets are purchased to run the company eg. computer equipment, machines, stock etc -depending on the business type. They may also require some loan finance to fund these assets.
These assets are then used to generate profit. There are many things that can be done to increase that profit – sales growth and margin growth. Equally, if businesses aren't careful, there could be profit drains – such as unchecked overheads or wastage in the business.
Once we have that profit, we then turn it into cash, generated from business activities. Cash drains can be seen from slow debtor payments, increase in unsold stock or work in progress, business loan repayments, business tax payments or faster payment of suppliers. Cash gains can come from faster collection of debtor payments, decreases in stock or work in progress, slower payment of supplier and reduced tax payable.
Once the cash has been generated from the profit, the owners then have a decision of how much to invest back in the business in further assets and growth (following the cycle round again), and how much to withdraw for their own personal expenditure.
The goal of the 101 Cycle is to accelerate the cycle so that the return on the owners' investment is sped up over time.
If you need help with increasing you profits, you may wish to check out our webinar, 7 Ways to Grow Your Business. You can also discuss how we can work together by booking in a Discovery Call. You can also take a look at some of our other mindset blogs.