This is an excellent mindset to consider when looking at your business planning process, and how you work on a day-to-day basis. (You may have seen this concept applied to other situations)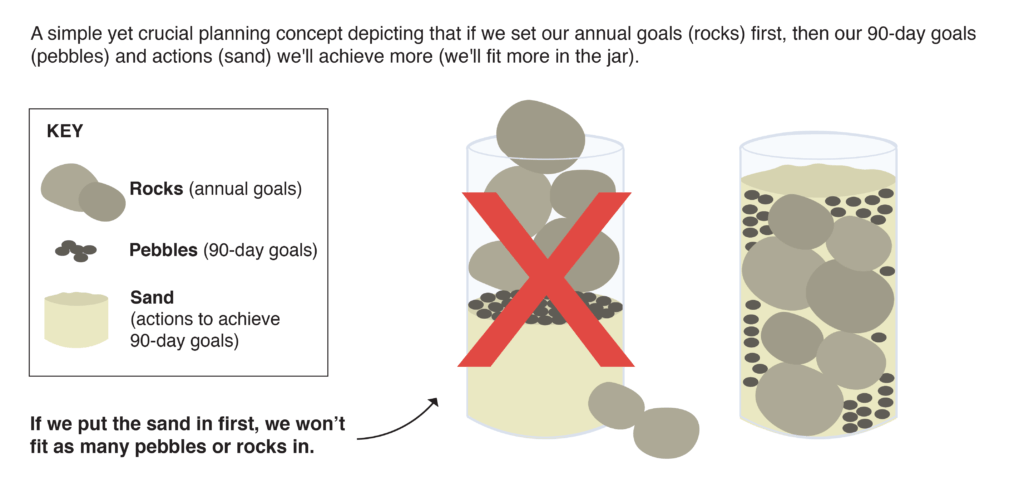 It's crucial to do things in the right order: If we try to fill up with the day-to-day actions, we won't be able to achieve our annual goals. Instead, think about identifying your annual goals (put the rocks into your jar), put the pebbles in around that – think about those 90-day goals that help you work towards the annual goals, and then fill up the space with sand (you day-to-day actions). That way we can focus on the day to day actions, knowing that we will be working towards the bigger rocks.
An example of this might be:
Annual Goal: Gross Profit margin of 60% (it is currently at 50%)
90-Day Goal (the first of 4): Increase revenue
90-Day Actions: increase sales price, research loyalty programmes to encourage more regular purchasing, contact existing clients to see if they require additional services/products, acquire 'x' new customers (these actions will usually be broken down from 90-day actions into weekly or daily tasks – it all depends on how you work. Breaking things down into the smallest components is usually the easiest way to track your progress and gain clarity.)
If you're interested in our Business Planning Services, please consider booking in a Discovery Call if you are not yet a client. For our existing clients, why not book in a Quick Question call so we can go through your options. You can also find out more about our Business Planning services here.