This mindset helps us in our conversations with our team, clients, and anyone else that we lead. As always, we love a matrix, so take a look at the image below. This can be a really helpful mindset if you have difficult conversations with both clients and team members.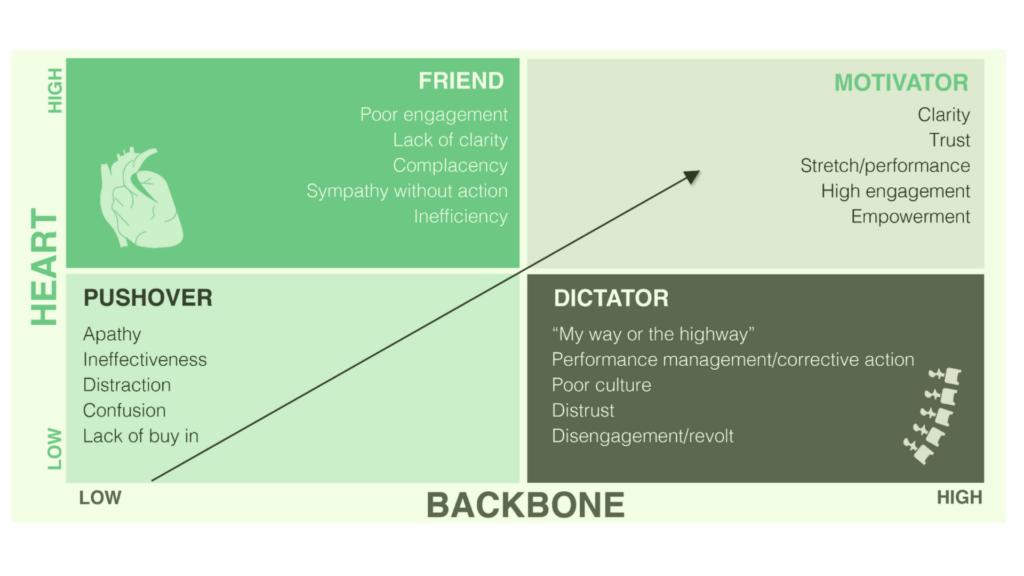 As you can see, we have Backbone along the bottom, and Heart along the side.
Low Backbone and low Heart
This will lead to apathy, ineffectiveness, distraction, confusion and lack of buy in from those that we are communicating with as well as with ourselves. You'll likely end up with both clients and team members leaving due to frustration.
Low Backbone, High Heart
Here we end up in the 'Friend Zone'. Poor engagement, lack of clarity, complacency, sympathy without action and inefficiency. This means that we'll likely do things to keep others happy, whilst going against our own values.
High Backbone, Low Heart
The Dictator Path. This is not going to be a happy place to work. Enforcing your own values and principles and not giving time to understand those that you are communicating with may lead to poor culture, distrust, disengagement (or revolt!)and a requirement for performance management/corrective action to take place to solve issues.
High Backbone, High Heart
This is the place where we want to be – having enough backbone to hold the difficult conversations, but enough heart to understand the other person's position. This enables us to get the best out of everyone. It means we have our values and our boundaries, but that we can work effectively with the others to obtain the best outcome for everyone. This means we have meetings where we identify, discuss and solve issues – not just have meetings for the sake of meetings (and then follow up meetings to discuss more non-issues). This is where everyone will get the best results.
An example in recent times of Backbone and Heart, and one that we discussed in our Business Continuity Webinar back in the first lockdown of 2020 was around debt collection. Knowing it was a difficult time for many small businesses, we had to use both backbone and heart: stick the the fact that we needed to be paid, but be sympathetic to their position. Explain that we were small businesses and needed paying – how could we agree on a solution for everyone?
So before you next have a conversation with a team member about their performance, or a client about their fees, take a look at this article and remind yourself of how you want the conversation to go, and what you need to do to get the best result for everyone.
Don't forget to check out the other articles in our Mindset Series.