There's an unspoken truth when it comes to tax advice: from a business owner's perspective, there's a complete lack of transparency from advisors over what tax advice actually is. This means as a business owner:
…..you don't know what to expect from your accountant
…..you don't know if you are getting all the advice you need

But this isn't really anyone's fault.
Firstly, how accountancy firms operate, what they deliver, and how they deliver it is significantly different to how it was just ten years ago. Accountants aren't all the same anymore, and that can present some difficulties when comparing services.
Secondly, tax advice is an incredibly complex area that hasn't been set out as a universally defined and priced service before. Compared with, for example, bookkeeping. If you need bookkeeping, your accountant will ask you several questions about your business and give you a price based on the requirements of delivery. Tax advice shouldn't be any different – but currently it is. Well it was until now….

Three types of Tax Service
We've devised a way to define our tax services to make them completely transparent and clear for our customers, and us too!
Our Tax Services are broken down into three areas:


Tax compliance
Helping you pay the right amount of tax that's due; your year-end accounts and tax return
Tax advice
Delivery of specific work or planning to improve your tax position, to make a future saving, or get cash back into your business e.g. making an R&D Tax Claim
Tax consultancy
Reviewing your overall affairs & motives and applying tax legislation to their situation, to see where you may benefit from advice in the future.
Most accountants will have a tax compliance service that is priced or built into their accountancy package services; with tax advice delivered and charged for as and when a situation arises.
Tax consultancy though? This is a bit of an unknown. But it's where the most value sits for you as a business owner. Find out more about our tax consultancy services below.
Our Tax Services
At Seed Accounting Solutions, we aim to be completely transparent with our pricing and recognise that as with accountancy services, the individual tax requirements of a business are very different.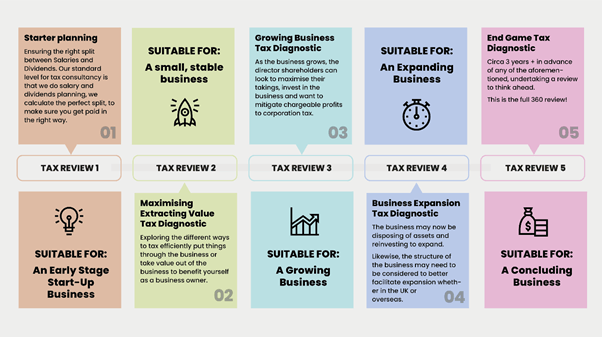 At each stage of a business' lifecycle, there are different tax service options to consider, to make sure you are paying the most efficient amount of tax.
Like what you see?
If you'd like to have a chat with us about our tax services and find more about what you could be doing, book a call below at a time that suits:
Book a Discovery call if you're not yet a client, or for our existing clients, you can use our Quick Query Service.