Managing our time can be difficult as a small business owner. We often set up our own businesses with a view to having more time freedom, being flexible with our time, not slogging our guts out in the 9-5 for someone else. The reality? We often end up working twice as much as we did in employment. This article will look at some of the reasons why we are always busy, and look at how we can take back a bit of control. We are specifically looking at the Achiever Matrix in this article – a mindset based on Stephen Covey's Time Management Matrix.
It is definitely worth reading his book, The 7 Habits of Highly Effective People – it is an absolute must for anyone just starting out. And for anyone who is a few years in, it will be hugely beneficial. And for anyone who has already read it, but is struggling with time management, it may be worth picking it back up! (it covers so much more than this matrix!). This matrix is found in the 3rd habit of highly effective people: Put First Things First.
The Achiever Matrix looks at the four quadrants
The Quadrant of Urgency
The Quadrant of Quality
The Quadrant of Deception
The Quadrant of Waste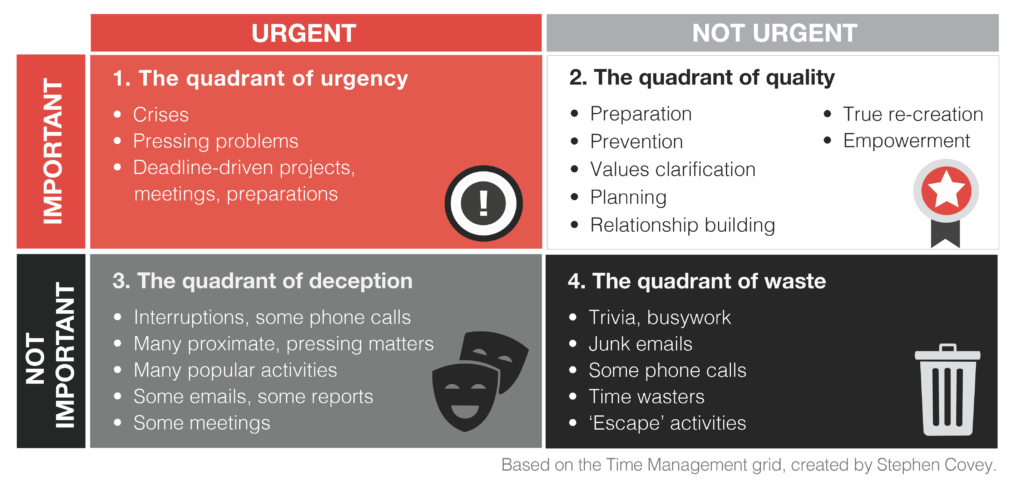 We can categorise all the time we spend working into these four quadrants. Some of them may span more than one quadrant, or move from one to another. However, by identifying which of our tasks fall into these four quadrants, we can better manage a flood of responsibilities, do excellent work and maintain a positive frame of mind (you may want to check out our OARBED article for the benefits of keeping a positive mind.
We very often find ourselves working in the Quadrant of Urgency – most commonly referred to as 'firefighting', or being reactive. These are jobs that are Urgent and Important. We feel like we've only just managed to solve one problem, or get a project off our desk, only to find another one pops up and we can end up feeling stressed, tired and frustrated. The jobs that fall into this quadrant are often crises, pressing problems, deadline-driven projects, meetings and preparations. We need to spend less time in this quadrant, and more time working in quadrant two – the Quadrant of Quality.
The Quadrant of Quality
The Quadrant of Quality is the quadrant of planning, prevention and innovation. These are tasks that are Important, but Not Urgent, and is where we should attempt to spend as much of our time as possible. This is where we'll improve our processes and is where we are most productive. It's also where we can prevent a number of important things from becoming urgent and falling into that disruptive first quadrant – the Quadrant of Urgency.
The third quadrant is the Quadrant of Deception. These jobs are Urgent but not important – certain emails, some meetings, interruptions and phone calls.
The very last quadrant is the Quadrant of Waste – these are jobs that are not urgent and not important. Junk emails, some phone calls, time wasting activities (mindless scrolling on social media is one of the worst!) and so on.
The 4 D's
We have a simple process, following the 4 D's to help us deal with these four quadrants:
The Quadrant of Urgency – DO IT NOW- there is nothing that can be done other than do them as quickly, efficiently and effectively as possible
The Quadrant of Quality – DIARISE – these tasks absolutely have to be done – they are important. They aren't yet urgent, so schedule them into your diary so that they are allocated the necessary time, and are completed before they become urgent.
The Quadrant of Deception – DELEGATE – these are tasks that do not require your personal attention – get someone to field phone calls and manage emails, give them to a team member or outsourced resource.
The Quadrant of Waste – DUMP – do no do them! Or only do them once everything else has been done. Anything that falls into this category should never receive any of your prioritised attention.
If this article has been helpful, we recommend taking a look at the recording of our Reclaiming Your Time webinar over on our YouTube channel which looks into other time management mindsets.