Parkinson's Law is the adage that 'work expands to fill the time available for its completion'
Deadlines can cause procrastination or even prompt people to fill their time with trivial matters. So if you have 2 hours to complete a task and put in the effort, you will complete the project within that time frame so long as you refrain from stopping and starting. The more time you have available to complete a project the greater the potential that you will fill that time and focus on multiple things that don't fully support the task completion. This leads to potentially completing work that is out of scope and disrupting other tasks.
Procrastination is another key player in Parkinson's Law. Knowing that we have a set amount of time to do something often inspires us to leave work until the last minute and our delays in getting started can mean the time allotted for that task expands, yet ultimately it can lead to less time and more effort. Where we would like to be sitting is more time and less effort needed.
So why does this happen?
Well some speculate that looming deadlines are motivating, so that fast approaching end date gives people the nudge to buckle down and focus.
Here's an example. You and your team have 2 weeks to complete a research project. It is more than enough time but because you know you have 2 weeks at your disposal the project grows more and more complex and some tasks get put off or pushed back due to procrastination, lack of clarity in communicating priority and focus. Now that project could have really been a simple and quick undertaking however it is actually now something that has required the full 2 weeks to complete and there is a sense of urgency and crunch as you rush to meet the deadline. That is Parkinson's Law in action.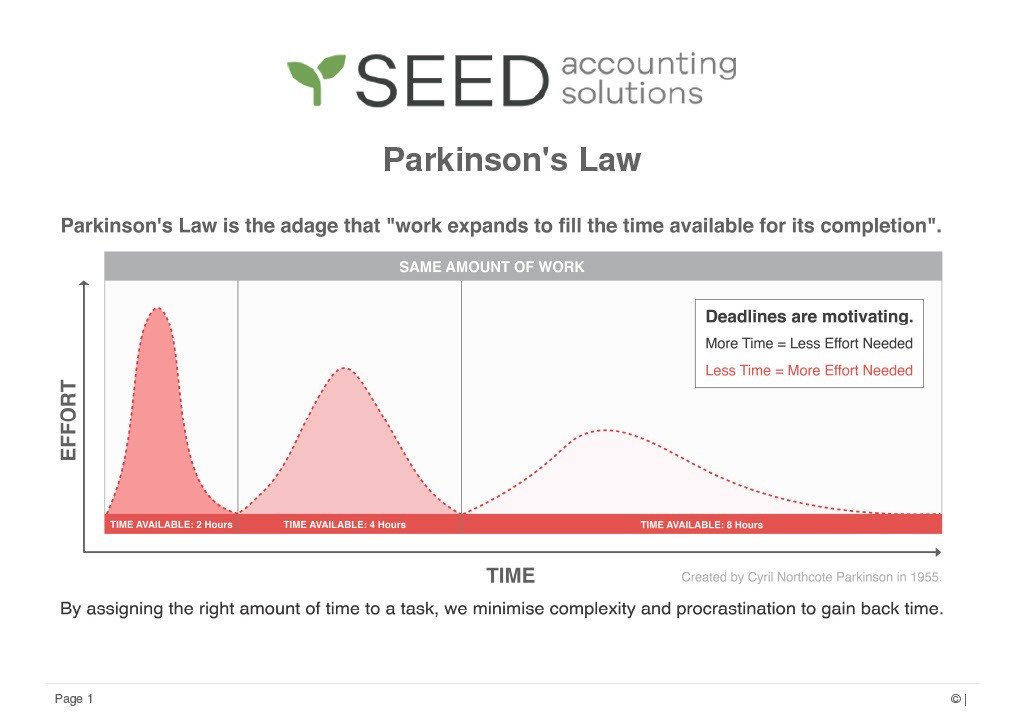 Understanding Parkinson's' Law is only half the battle, what you really want to know is how to prevent that 11th hour crunch to get the work completed. Putting projects in place with larger goals and creating timelines and deadlines in days rather than weeks are strategies to help overcome Parkinson's law. You can start early with projects by planning and be clear with your communication where you can set expectations about how you and your team will approach and conquer work and projects that are prone to scope creep and procrastination.
Follow these steps
Clearly outline your vision, your statement and your drivers.
Clarify roles and responsibilities.
Understand what is in and out of scope.
Identify your trade offs and set your timeline.
By following these steps you can set yourself and the team up for success from the outset.
By assigning the right amount of time to a task, we minimise complexity and procrastination to gain back time.
If you'd like to discuss how we can help you grow your business, please get in touch. For existing clients, you can use our Quick Query service. For future clients, please book in a Discovery Call.
Liked this post? Why not check out our other Mindset Blogs.