This is a great mindset for helping you understand how you can maintain motivation both for yourself and for others in your business. I've written this from a relatively personal aspect, as I wanted to share a few of my own experiences along the way.
Everyone knows about Goldilocks – she wanted everything 'just right'. Well, the same can be said of maintaining motivation: it has to be just the right fit between difficulty and boredom. James Clear writes on his website: While there is still much to learn, one of the most consistent findings is that the way to maintain motivation and achieve peak levels of desire is to work on tasks of "just manageable difficulty." (you can check out his article here – it has an absolutely awesome story at the start of it that brought a huge grin to my face when I was reading it!).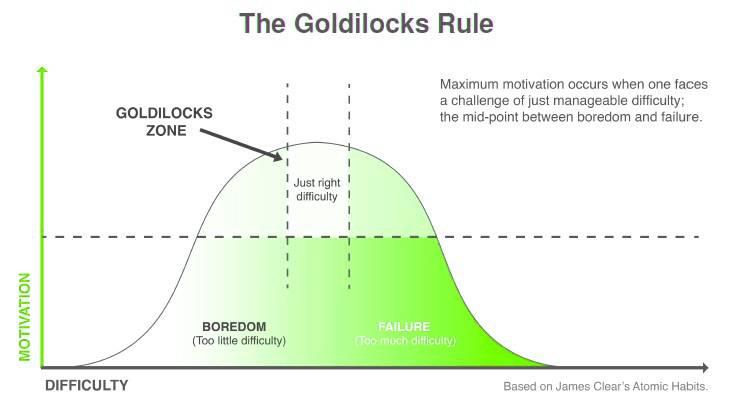 Like it or loathe it, the term 'Comfort Zone' comes into the fore here – by consistently pushing yourself (or your team members) just a little bit out of your comfort zone, you will learn new things, figure out what needs improving, and ultimately improve yourself as a result of it. Some of the things that I do consistently that are outside my comfort zone:
long runs. I recently signed up for a marathon. Now I feel a sense of worry and concern the day (and immediate hours) before a long run: have I got enough fuel, will my outfit be ok, what's the weather going to be like, am I going to make it round, I don't want to have to consume 3,500 calories afterwards just to feel human again, how tired am I going to be after……it goes on. However, I know that each long run I do, whether it is maintaining my distance to improve my pace, or extending it to gradually get myself to the magical 42k will keep me focused on the task at hand – which is, quite simply, to make it round a 42k course in April 2022 and hopefully finish in one piece.
public speaking. I regularly get comments that I am great with all my video content (webinars, Instagram lives and so on) – truth be told, all of it scares the living daylights out of me. Pre-pandemic I'd regularly run seminars and workshops and would stand confidently at the front of the room whilst I died a little inside. I recently got asked if I would record a few hours of video content. The prospect filled me with such horror, I just ignored the email. When they chased me, I finally agreed (it took me 3 weeks to agree, two of those weeks were on holiday, and I'd had a huge amount of reflection in that period…one of which is that, weirdly, I love public speaking!) I have realised that despite the fear and anxiety that public speaking brings, I genuinely love sharing knowledge, and the best way to do this to large amounts of people, is to get out there and do it.
difficult conversations. I have to have these regularly in my business – with clients about pricing, incomplete bookkeeping, large or unexpected tax bills, with my team – whether about performance or decisions to make, with suppliers when I decide I'm cutting them loose (and yes, I do take every relationship very personally, so even supplier conversations can be difficult when I'm cancelling them, even if it is the best thing for me and my business!) Learning to do this has ensured my business can keep running – and whilst the decision to have the conversation in the first place is getting easier, the conversation itself is still tough. But that's probably another mindset to share another day.
So what I am trying to highlight here is that, you are likely already pushing yourself just a little out of your comfort zone. But why not choose to do this, as a conscious decision to improve yourself, drive yourself forward and keep that motivation going? Once you've understood what tasks you can do with 'just manageable difficulty', the important thing to do is to measure your progress. And as many people say, "what gets measured, gets improved" (this literally applies to all areas of life – fitness, weight and health, money, cashflow and profit, performance, happiness and motivation.) Some things will be easier to be measured than others, but knowing the point at which a task becomes easy is key – because you don't want to end up in the boredom zone.
I highly recommend reading James Clear's book, Atomic Habits – it is absolute GOLD. I have already shared a few of his mindsets in my Mindset Blog series – you can check some of them out here .