Each month we focus the client spotlight on one of our fabulous clients.
This month is the turn of the lovely Clare de Brett from English Vineyard Tours. In 2018, Clare decided it was time for a change after 10+ years in the world of international events and hospitality. Situated in Haslemere on the borders of Surrey, Hampshire and West Sussex Clare realised she found herself in wine country with a plethora of award winning vineyards dotted around producing exceptional still and sparkling wines. After attending tours during the summer months at vineyards throughout the three counties she decided it was something she wanted to pursue and became passionate about English wine.
We asked Clare a few questions to find out more about the tours and her business.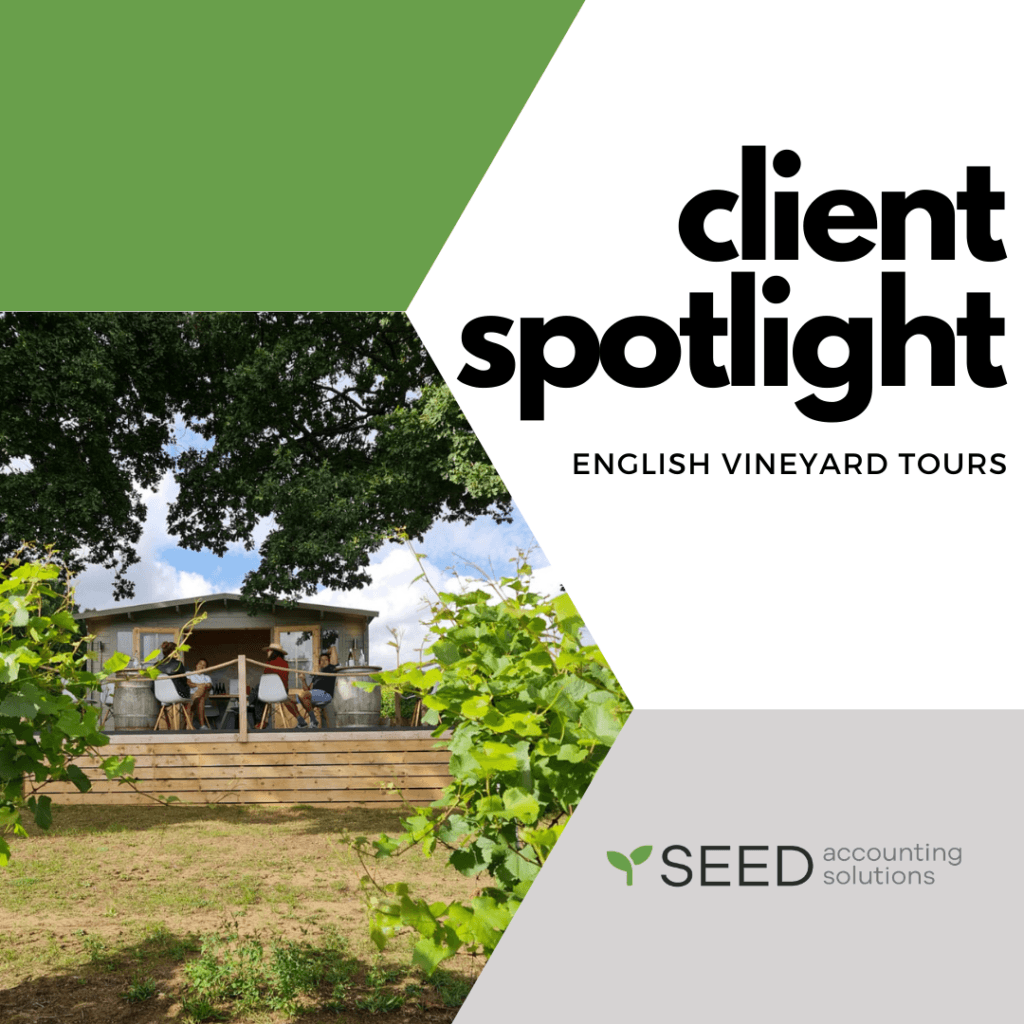 Why did you set up your business?
I wanted to combine my two loves, wine and hospitality.
How are you different to your competitors?
We are completely unique as we partner with vineyards to run their events and tour seasons. We aren't a tour company in the traditional sense of picking up guests in a minivan and driving them between places. We are stationed at vineyards and do absolutely everything from marketing, selling tickets, logistics, staffing and wine sales during tour season. It's a full service, the idea is that the vineyard gets to concentrate on wine making and we sort out the tourism and tour side of things.
Who are your ideal clients/target audience?
Small vineyards that want to outsource their tours operations. And then anyone who is interested in wine to come along and do the tours with us.
Do you have a team, or do you work alone?
I have an amazing team of vineyard guides, they work a combination of Fridays and Saturdays delivering tours and looking after our guests. I work alone when it comes to the admin side of things but have amazing support from not only Seed Accounting but also Edgebound, my website developers and go to tech guys.
What is your biggest business challenge?
Can I say the weather?! If the weather forecast is bad people aren't going to book a vineyard tour!
If you could wave a magic wand, what one thing would you like to be sorted in your business?
Touch wood, everything is as I want it right now. I have long term goals and plans but I don't want any quick fixes, I'd prefer to go slow and steady and grow at a manageable pace.
What is the best business advice you received?
Fail Fast
How do you make time for yourself?
I love being with people and hosting, I struggle with 'days off' and time for myself and would prefer to be cooking lunch for 10 on a Sunday rather than having 'me time'. I try to swim at least three times a week and that makes me switch off completely.
Who are your favourite influencers to follow on social media?
I'm not sure I follow any 'influencers' – my personal account is private and the people that follow me are friends and family and people that I know and have looked in the eye at some point in my life. I follow them back and any additional accounts are things like National Geographic, local shops and business, funny accounts or friend's businesses. I understand the importance of social media from a business point of view but first and foremost it should be fun. You don't log into Instagram or Facebook to get stressed!
Why did you appoint Seed Accounting Solutions as your accountants?
I'd used you in a previous business and we work well together.
You can find out more about English Vineyard Tours over on their Instagram or website.